LEARN FROM NATURE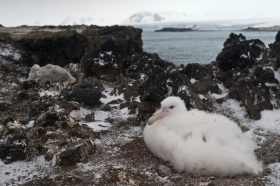 From ENN : It has been said that seabirds are key indicators of the impact of climate change on the world's oceans. How exactly? In Antarctica, for example, seabirds depend on ice: Seabirds eat fish, which eat krill. The krill eat algae, and the algae grow underneath sea ice. With warming oceans, and less ice, there will major consequences for this food chain.
In an effort to quantify and model how seabirds will fare in the face of climate change, Stephanie Jenouvrier, a biologist at Woods Hole Oceanographic Institution (WHOI), investigates the topic.
Seabirds fly very long distances to forage at sea, but they return to nesting sites on land to breed. Many seabirds mate for life sometimes live and reproduce into their fifth or sixth decades.
Studying climate change requires a long-term perspective, so researchers make multiple trips to seabird nesting sites, just as the birds do. Each year…
View original post 275 more words